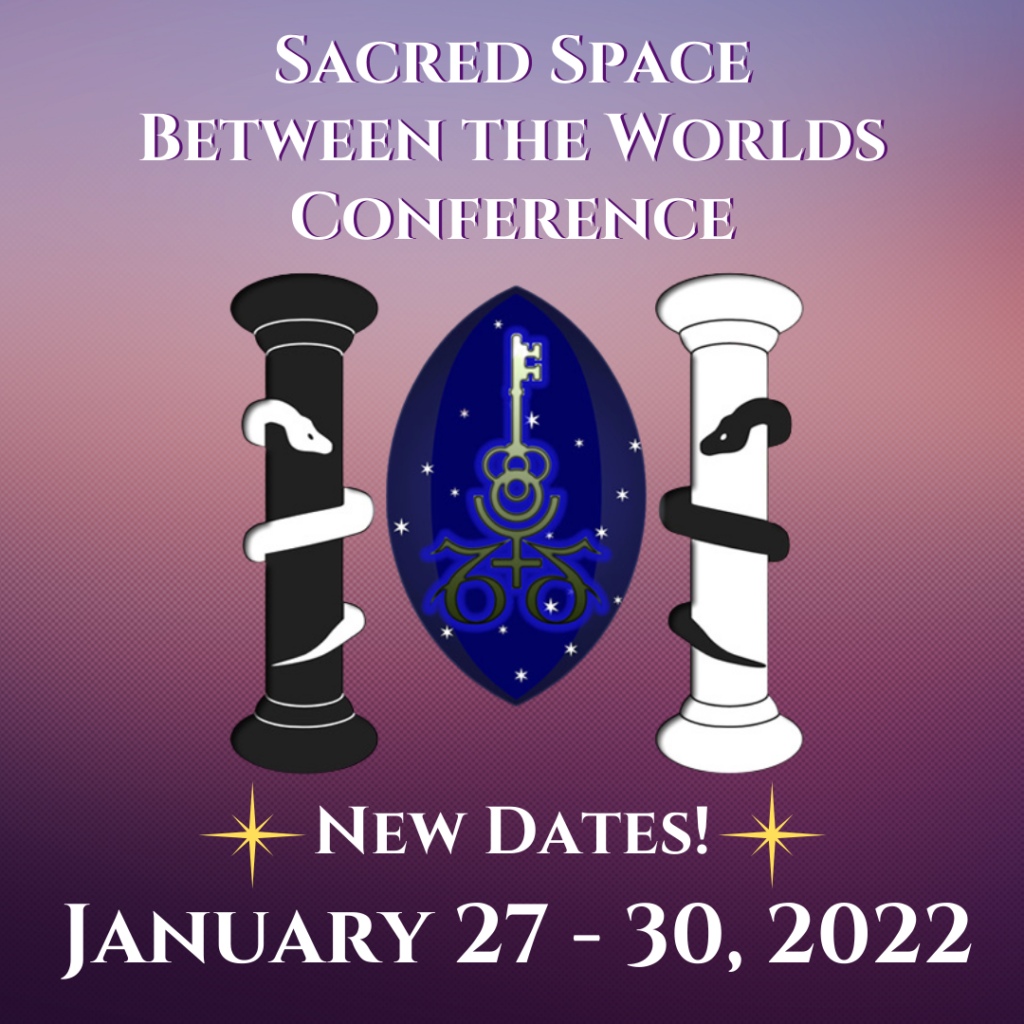 New Conference Dates: January 27 – 30, 2022 The leadership of the Sacred Space Conference and the Between The Worlds Conference have been continuing to monitor the COVID pandemic and it is clear that we cannot hold the joint event in April of 2021 as we had intended. Gatherings are still limited to 50 people in the county where our hotel is located. Moreover, the pandemic is likely to get worse over the next few months. We are rescheduling the joint conference to January 27-30, 2022.
Emails to all registered attendees were sent on November 15th, 2020. If you are currently registered for the conference, your registration will automatically be rolled over to the new January 27-30, 2022 date. Any hotel rooms that are currently reserved in our block will be automatically cancelled. Sometime next year we will reopen room reservations and new registrations. Most of you made this choice before and we hope that you will stay with us again.
If you do not want to rollover your registration, you may request a refund by emailing registrar@sacredwheel.org using the email you used in your registration and the names associated with the refund request. The final deadline for requesting a refund is December 31, 2020.
If you choose to request a refund, please consider sending us a donation. When we had to reschedule the first time, we kept a percentage to cover the costs and losses of rescheduling the conferences. We have lost thousands of dollars in nonrefundable travel expenses, program book costs, materials and rentals, credit card and PayPal processing fees, and more. The pandemic has affected many of us and the delay in the event may be too much for you so we decided at this juncture a full refund would be given if requested. However, if you can give us something it would truly help, and it is a tax-deductible donation. We are doing the best that we can to ensure that both conferences survive the pandemic and continue to serve our communities. You can donate via PayPal here.
Thank you for your continued commitment to making our conferences successful over the years as source of community outreach and learning.
Yours,
The Sacred Space and the Between The Worlds Conferences
Hotel Information:
Delta Baltimore Hunt Valley
245 Shawan Rd
Hunt Valley, MD 21031
+1 410-785-7000
Stay connected! Click here for the Facebook Page, click here to join the Facebook Group and click here for our Instagram account.
Join us in Hunt Valley, Maryland for the premier esoteric conference for intermediate to advanced practitioners!   This year, we are excited to bring together Sacred Space and the Between The Worlds conferences into a joint event. In 2015, the two organizations presented a successful collaborative conference and we look forward to doing so again.  We will be sharing information, but recommend that you also visit the Between the Worlds conference page here.