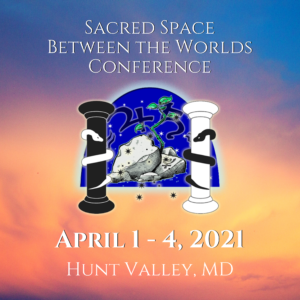 The Sacred Space Conference is the premier annual esoteric conference on the East Coast for intermediate to advanced practitioners. Meeting in April in the Washington, DC/Baltimore area, each year our featured teachers and a host of highly qualified regional teachers offer a wide variety of workshops and rituals developed for a more advanced audience.  Our attendees tell us that they are particularly grateful for the opportunity to pursue their continuous development in the company of their peers across many magickal traditions
The Sacred Space Foundation is a nonprofit 501 (c) (3) organization based in Virginia.  Our primary mission is to run an interfaith esoteric conference held annually in the DC/Baltimore metropolitan area.
    The current Board of Directors consists of:
Gwendolyn Reece
Michael G. Smith
Kayt Lewis
Dave Rea
Doug Jenkins

Irene Glasse
A Joint Conference
Statement From The Board of The Sacred Space Foundation
On April 1 – 4, 2021, we will bring together Sacred Space and the Between The Worlds conferences into a joint event. In 2015, the two organizations presented a successful collaborative conference, and we look forward to doing so again. As Contemporary Paganism matures, we hope to provide a model for ways in which organizations can look for synergies and undertake cooperative initiatives.
The programs for both Sacred Space and Between The Worlds are geared toward serious and more advanced practitioners and are both based in the Mid-Atlantic. As an annual conference, Sacred Space fosters a strong sense of community among those who regularly attend. The missions of Sacred Space include building part of the infrastructure to support the continuing growth of intermediate and advanced practitioners, providing opportunities for regional talent to develop as teachers, and providing a venue for groups of people across traditions with similar interests and expertise to know and work with each other. Financially, the only goal of the Sacred Space Conference is to ensure that the conference is on sound financial footing so that its future can be ensured.
The Between The Worlds Conference serves a similar audience but is offered at particular inter- vals aligned with specific astrological events. It always includes a main ritual that is designed to address an important magical need, and the plenary sessions also discuss significant and timely topics. Financially, the Between The Worlds Conference is a fundraiser for the New Alexandrian Library—an important component of Pagan infrastructure.